From an older adult:
As a 67 year old woman I am concerned with not only fitness, but strength and flexibility. Judy has been paramount to my overall health status (and my husband's also). This past year I faced a serious health issue and have come through with flying colors. One reason my physician gave for my success was the excellent shape I was in at the beginning. He stressed that everyone with a serious health issue fares better when they are physically fit to begin with. Judy has adapted my program to fit my needs as I proceeded on the pathway to good health. I am basically lazy, but with Judy's support and encouragement I have learned to listen to what my body is telling me and to respond accordingly. In fact, when I am tired exercises she recommended for me make me feel more energetic and alive. I whole heartedly recommend Judy and her individualized program(s) for anyone interested in being more fit, stronger and more flexible.
From a Professional Tennis Instructor:

Since working with Judy, I have maintained my weight…tough to do as you get older. But, more importantly, my tennis fitness is much better and I have had far fewer nagging little injuries. Yeah, Judy!!!



From an older adult who has worked with several other trainers:

Intelligent exercise techniques adapted to individual needs. Paced to suit each customer/client.
From an athletic client who has had medical set backs, but has lost 60 pounds:

Being a tennis player, but unable to play due to several injuries and knee surgery, I decided it was time to get back in shape. I began training with Judy on a bi-weekly basis and worked on cardio conditioning, strength and weight training, Pilates and core strengthening . With her expertise and encouragement, I lost more than 50 pounds, regained my strength and fitness levels and began playing tennis again. I couldn't have asked for a more supportive and knowledgeable trainer.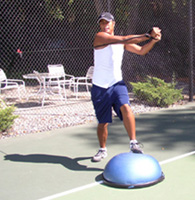 From a college aged tennis player:

After working with Judy for 15 months, I received a college tennis scholarship to
USF.
From a college freshman:

I was able to walk on at my college to play varsity baseball as a freshman. In addition Judy gave me exercises to help prevent knee injuries that are so prevalent in female athletes.
From a professional woman who moved away from the area:

I haven't even looked for a personal trainer. I'd be lucky to find someone as good as you.

I thoroughly enjoyed my personal training with Judy. She was extremely knowledgeable about personal training. She seemed truly motivated to help her clients. She was especially capable in working with my age group – over 40. My fitness improved significantly while working with her. She brought something new to each session – no two were alike. She was always on top of the latest innovations, while staying grounded in the tried and true personal training techniques. If I hadn't moved away from Fremont, I would still be working with her.
From an athletic older client, four months post surgery & with other chronic issues:
My goal was to go on my annual ski trip in 5 weeks. I worked with Judy who was very aware of my other limitations, on core, upper body strength, and regaining muscular strength. I was able to go on my trip and my ski buddy commented that I seemed stronger this year.